Can Washington stop Turkey from attacking Syria's Kurds?
Shifts in the relationship between Ankara and Damascus are putting U.S. allies at risk.
Cristina Maza
Turkish President Recep Tayyip Erdoğan's fraught relationship with Syrian strongman Bashar al-Assad could be on the verge of thawing. But the budding rapprochement between the two neighbors worries Washington's Kurdish allies, who are looking to the United States to save them from a potential onslaught.
Russian President Vladimir Putin, who has backed the Syrian regime since 2015, has been pushing Syrian and Turkish officials to reconcile for years. That shadow diplomacy finally led to a breakthrough last month when defense officials from the two countries met in Moscow. It was their first meeting since the start of the war in Syria in 2011. The Syrian and Turkish foreign ministers now plan to meet later this month. If that goes well, Erdoğan suggested he may meet personally with Assad, a man he has called a terrorist.
Erdoğan's primary goal in Syria is to destroy the Kurdish groups he claims are tied to the armed Kurdistan Workers' Party (PKK) operating in his country. That includes groups like the Syrian Democratic Forces, an alliance of Kurdish and Arab militias that share military facilities with U.S. personnel and conduct joint patrols with them in northern Syria. The Pentagon announced in December that it would expand these patrols with the SDF.
Turkey's leader also wants to establish a buffer zone stretching across roughly 20 miles of northern Syria, a region home to Kurds and other ethnic groups. That would allow him to deport some of the approximately 3.7 million Syrian refugees in Turkey, winning him political points before the June presidential elections.
But creating a buffer zone would require Turkey to launch a ground war against Syria's Kurds to dismantle their organizations in the region. If Assad's regime goes along with this plan, it will put Washington in a tricky position. The United States has relied on Syria's Kurds to fight Islamic State militants. A war between Turkey and the Kurds would risk freeing ISIS fighters currently in Kurdish-run jails and camps and decimating Washington's only allies in the war-torn country.
Ibrahim Hamidi, a Syrian analyst based in London, said the Kurds would be the biggest losers if Turkey and Syria's leaders reconcile. But renewed ties would also be a significant blow to U.S. interests and the war on terror.
"The American approach is very simple. They feel that one of their great successes was to defeat ISIS in Syria, and the Kurds were very loyal and helpful in achieving this goal and in keeping the pressure on ISIS and keeping it from emerging again," Hamidi said. "If the Turks start this military operation in the northeast of Syria in coordination with Damascus and Russia, that will really weaken their local allies."
Caught between hostile governments in Ankara and Damascus, the Kurds have placed all their bets on Washington and the roughly 900 U.S. troops in Syria. But they have also warned their American allies that a conflict with Turkey would force them to abandon their anti-ISIS patrols and focus on defending their families.
Sinam Mohamad, a Syrian Kurd leader heading the Syrian Democratic Council's mission in Washington, has met with State Department officials and lawmakers and staffers on Capitol Hill to discuss Turkey's ongoing attacks against Syria's Kurds. She says Turkish groups are committing human rights violations against Kurdish residents in her native city of Afrin and shelling parts of northeast Syria controlled by the multiethnic Autonomous Administration of North and East Syria.
She argues that Turkey's proposed buffer zone would be a catastrophe for Kurds in the region and the pluralistic society they are trying to build.
"They are committing a lot of crimes there. They rape Kurdish women, and they killed the Kurdish people there," Mohamad told National Journal. "In Congress, we gave them all the documents about the human-rights violations happening in Afrin and in the other regions occupied by Turkey. We gave them to the State Department. They are against [the human-rights violations], but they are doing nothing. Especially for Afrin."
With the war in Ukraine raging and the U.S. withdrawal from Afghanistan creating an uptick in refugees, the war in Syria has gotten little attention from Congress. Rep. Jason Crow of Colorado introduced a bill that would have offered special immigrant status to people who assisted in U.S. efforts to fight the Islamic State in Syria. The bill never left the House Judiciary Subcommittee on Immigration and Citizenship.
The U.S. has been using diplomatic backchannels to pressure Turkey to ease up on Washington's Kurdish allies. Washington was also credited with convincing Erdoğan not to launch a major incursion into Syria following a terror attack in Istanbul in November. Mohamad noted that Turkish shelling in northern Syria subsided due to pressure from Washington. But Turkey continued to target leaders of the Syrian Democratic Forces with drones.
Still, some experts argue that Washington hasn't been tough on Turkey due to Ankara's role in the war on Ukraine and because the U.S. wants Turkey to ratify Finland and Sweden's NATO membership as soon as possible. Turkey hosted the only negotiations between Russian and Ukrainian officials at the start of the war last year, provided drones to Kyiv, and helped broker a deal that allowed Ukrainian grain shipments to resume despite the violence in the Black Sea.
"The Biden [State Department] team that oversees Turkey is basically trying to keep Turkey on side," said Sinan Ciddi, an expert on Turkish domestic politics and foreign policy at the Marine Corps University. "They're willing to sacrifice quite a lot of things to keep Turkey appeased for now. They've really bought into this notion that Turkey is invaluable in terms of the contributions and facilitations it provides on the Ukrainian front. Everything else is on the back burner."
The State Department did not respond to requests for comment about its diplomacy with Turkey in support of the Kurds. One source, who spoke on background to speak freely, said a U.S. diplomat would travel to Ankara this week to discuss the issue. The State Department did not announce the trip publicly or respond to questions about it.
Meanwhile, there are significant doubts about how far U.S. diplomats can get with Turkey. The Turks believe they have the upper hand in negotiations because of their cordial relationship with Russia. Ankara is also keenly aware that Washington won't go to war with a NATO ally on behalf of the Kurds.
Turkey has long been one of NATO's most problematic member states. Despite overwhelming support for Finland and Sweden's NATO membership, it has dragged its feet on ratifying NATO enlargement in an effort to extract concessions from the West. NATO enlargement requires every member state to ratify an applicant's admission to the Western military alliance, and so far, Turkey is the holdout. Ankara used the Nordic NATO bid to pressure Stockholm to extradite Kurdish dissidents who have sought asylum in Sweden.
On Sunday, Sweden's Prime Minister Ulf Kristersson told a security conference that his country could not meet all of Turkey's demands. Sweden deported one man with alleged links to a Kurdish militant group to Turkey in December.
Nevertheless, Ryan Gingeras, an expert on Turkey at the Naval Postgraduate School, said U.S. officials are reluctant to criticize Ankara publicly.
"The suggestion that the United States-Turkish relationship is somehow on the rocks, or that Turkey is cast as an unhelpful actor, that hurts the efforts in Ukraine," Gingeras said. "It's not a question of whether Turkey is that helpful, but rather to suggest that they are not helpful is self-undermining."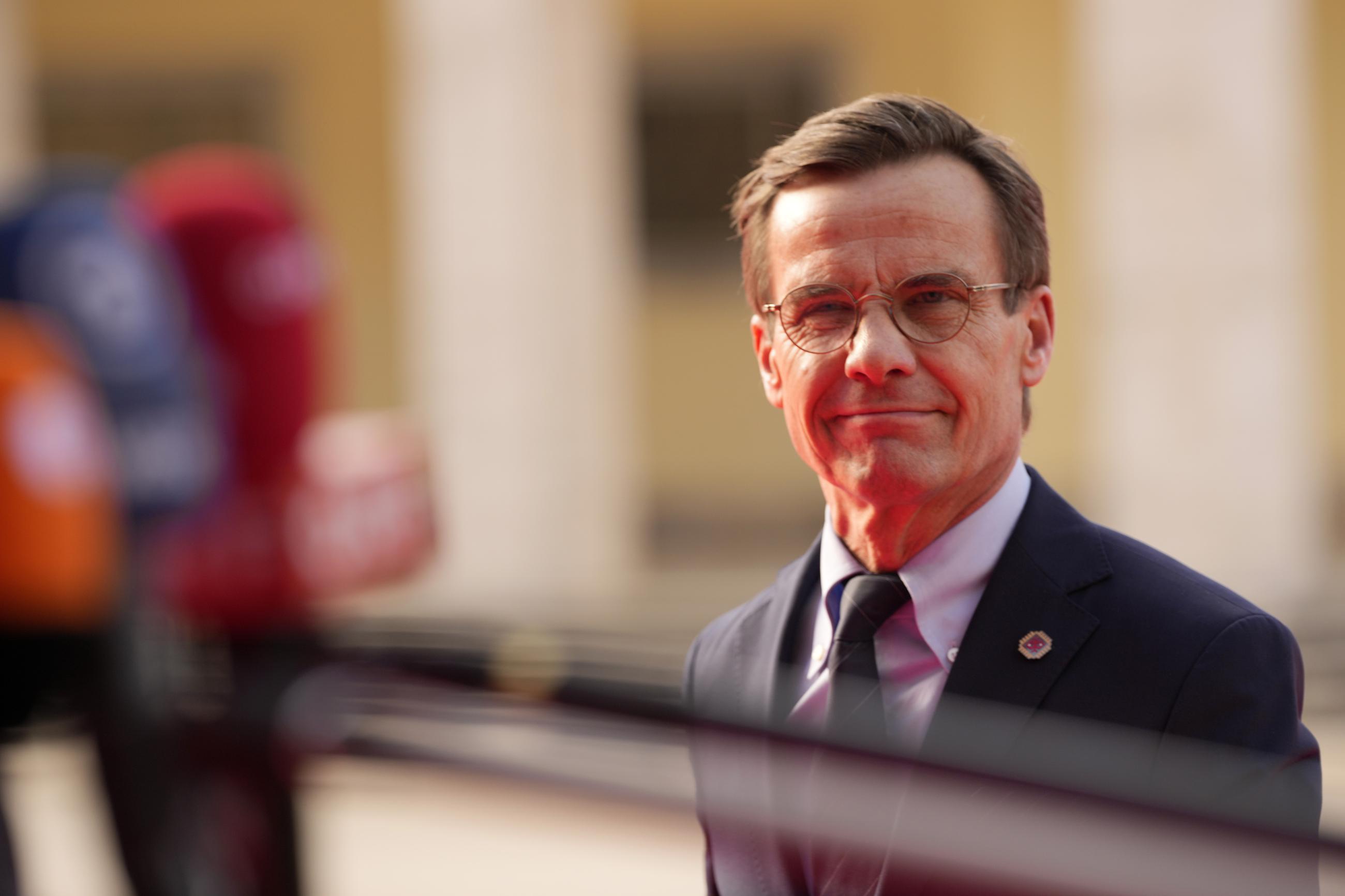 Swedish Prime Minister Ulf Kristersson (AP Photo/Andreea Alexandru) ASSOCIATED PRESS
Despite the growing fear that Turkey will renew its old alliance with the Syrian regime, there is no guarantee that Russia's diplomacy will bring Ankara and Damascus together. Turkey has backed Syrian opposition groups fighting against Assad for years, and there is plenty of distrust between the two countries. What they share, however, is their mutual dislike of the Kurds and the U.S. presence in Syria.
Given the high stakes, Mohamad from the Syrian Democratic Council is calling on the U.S. to mediate between Turkey and the Kurds to prevent a broader conflict.
"We don't want to have to fight Turkey or the Turkish people. We are not interested in fighting," she said. "We have been fighting terrorist groups since 2011 and 2012. Our people are fed up with this fighting. They want to see stability."